About Sea Ranch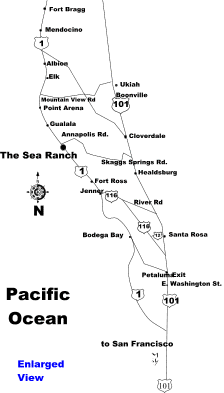 ea Ranch Community is a unique and very special location. The private community emerged from a deep respect for the natural landscape in all its variations: shoreline, meadows, uplands and forests. This is a place to enjoy the natural beauty of the Northern California coastline amid architecture designed to blend with the environment.
All around Sea Ranch miles of coastal and forest trails affording spectacular views of the Pacific Ocean. You can watch the seasonal whale migration or the sea lions on the rocks (even right fromat Shell Beach). Kayak Rentals are available on the Gualala River. The Sea Ranch Golf Links is public and offers a challenging round of golf in a spectacular coastal setting.
Groceries, art galleries, gifts and services are available in nearby Gualala. Restaurants offering a range of gourmet meals to simple burgers and pizza are just a short drive away. You may want to take a day trip to Mendocino or Fort Bragg where you can visit art galleries and shops or take a ride on the Skunk Train.views along the rugged coastline, and much more.